Monday Jul 18, 2022
Ep42 - Mixtape Tested, Ruben Approved: Shark Almighty with Ruben Escobedo III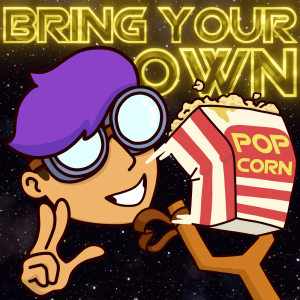 Feature Film: Jaws (1975). Other films discussed: Mystery Alaska (1999), Bruce Almighty (2003), Ace Ventura 2 (1995), Man on the Moon (1999), Ghostbusters (1984), Who Framed Roger Rabbit (1988).
Comedian and mascot Ruben Escobedo III has two podcasts about movies: Kid Tested, Mother Approved and Into the Sandlerverse. But that's not enough time spent talking about movies. He wants MORE. Have no fear, Mixtape is here! We chat with Ruben about his favorite creature feature, the bloodiest summer blockbuster to ever almost kill George Lucas. We also talk about many other Ruben favs, and we hear some great stories, including a heartwarming tale about Christopher Lloyd, and many fun stories about Ruben's dad.
This episode is dedicated with loving memory to Ruben's father, Ruben Escobedo Jr.
Follow Ruben Escobedo III on Twitter, Instagram, Tiktok
Follow BYOP: Twitter, Instagram, Facebook
Become a treasured kernel in the BYOP bucket over on PATREON! For as little as $3 a month, you'll get access to exclusive photos, videos, polls, merch, a sense of buttery community, and more!
MUSIC: Adult Problems by Richard and the Julians Copyright Richard and the Julians 2015; Popcorn Frog by MC Chris Copyright mc chris llc 2013. "Jaws" Theme Song Remix from Remix Maniacs 2019. BYOP Logo by @MilkMyth.