Tuesday Jul 05, 2022
Ep41 - Carl Sagan's Sexy Space Documentary, with GUEST HOST Milk Surface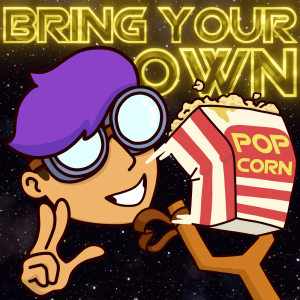 Feature Film: Contact (1997). Other films discussed: Titanic (1997), Phantom of the Paradise (1977). 
If you put the words "guest" and "host" together, you get "ghost"! But I assure you, there's nothing haunting about today's guest-host whatsoever. That was just a fun word thing for you. You'll remember Milk Surface's lively and sultry tones and attitude from Episode 35!
In THIS episode, Milk guest hosts and interviews usual host Mixtape Majesty, in a spin-me-round like a record player topsy turvy turn of events. Mixtape discusses the movie that defined her entire reality, shaped her love interests, and inspired her to bring her own popcorn, while Milk leads the popcorn wagon to fun town.
Follow Mixtape wherever @mixtapemajestys are found.
Follow the myth of Milk wherever @milkmyths are found.
Follow BYOP: Twitter, Instagram, Facebook
Become a treasured kernel in the BYOP bucket over on PATREON! For as little as $3 a month, you'll get access to exclusive photos, videos, polls, merch, a sense of buttery community, and more!
MUSIC: Adult Problems by Richard and the Julians Copyright Richard and the Julians 2015; Popcorn Frog by MC Chris Copyright mc chris llc 2013. BYOP Logo by @MilkMyth.